We have the right experience to turn your ideas into reality. Our team has a successful track record of implementing diverse and unconventional projects. Let us assist you in bringing your vision to life!
Our electronic engineers are well-equipped to handle various challenges associated with PCB design. We develop both simple, single-layer PCBs and more complex designs with multiple layers and high component density. We pay meticulous attention to proper component placement, minimizing electromagnetic interference (EMC), and optimizing signal traces to ensure device reliability and high performance.
Our Mechanical Department specializes in creating customized device housing solutions, whether they are made of metal or plastic. We cater to the specific needs and preferences of our clients. Regardless of whether you require metal or plastic housing, our team has the capabilities to deliver high-quality solutions. In our machine park, we fabricate precise and durable metal enclosures. For plastic housing, we excel in injection molding, creating visually appealing, functional, and easily manufacturable designs
Our Software Department specializes in developing innovative software solutions for electronic devices and user interfaces. With a team of experienced software engineers, we focus on ensuring seamless integration of our software with the entire device, resulting in smooth and efficient operation. In addition, we offer expertise in implementing WiFi solutions in every device, enabling wireless connectivity and remote diagnostics.
Our production hall, spanning 2000m², serves as the core of our electronic device manufacturing operations. It is equipped with dedicated assembly stations and specialized equipment and tools that we have developed in-house, enabling us to achieve excellent quality and efficiency in our production processes. Each stage of production is meticulously recorded and identified using tablets, allowing for continuous monitoring and optimization of every step. Our production hall leverages innovative solutions and tools that contribute to enhancing product quality and expediting task execution. It is through these innovative approaches that we are able to create diverse electronic devices that meet the expectations of our customers. Our production hall provides a strong foundation for the growth of our business, giving us a competitive edge in the electronics industry.
We can create a prototype of the device
RAPID PROTOTYPING DEPARTMENT
The Rapid Prototyping Dept is a specialized division that focuses on quickly creating functional prototypes and models of products or concepts. It utilizes advanced technologies like 3D printing, CNC machining, and laser cutting to rapidly produce physical representations of designs, enabling efficient evaluation before moving into full-scale production. The department plays a crucial role in accelerating the product development cycle.
Our Rapid Prototyping Department has four advanced 3D printers. They use cutting-edge technology to bring designs to life accurately and efficiently. These printers transform digital designs into physical prototypes with great precision and speed.
3. IMPROVING PRODUCTION PROCESSES
By using rapid prototyping techniques, we can test different design versions and solve any issues early on. This helps us make the production process smoother, saving time and resources. The Rapid Prototyping Department works closely with our R&D and design teams to ensure that the prototypes match the final product. Their expertise helps us visualize and validate design ideas, making necessary adjustments along the way.
we can do everything in metal
Our Machinery Park is equipped with advanced machinery, including laser cutting, bending presses, CNC milling, CO2 lasers or turning machines. With these capabilities, we can prepare metal housings for various products. We perform precise laser cutting, repeatable bending, precise milling, and cylindrical turning operations. Our team of experienced operators ensures the efficiency and quality of the machines. This allows us to tailor the production process of metal housings to meet individual customer needs. We continuously update and expand our Machinery Park to stay up to date with the latest metal processing technologies.
we can offer optical solutions
Our skilled team of engineers and technicians leverage advanced optics technology to design and develop cutting-edge solutions tailored to meet specific customer requirements. The department is equipped with state-of-the-art equipment and facilities to ensure precise calibration and testing of the diode lasers and IPL lamps, guaranteeing optimal performance and efficiency.
With a strong focus on research and development, we continuously strive to enhance our products, exploring new techniques, and incorporating the latest advancements in laser technology.
WE HAVE BEEN TRUSTED BY OVER 60 COMPANIES FROM ALL OVER THE WORLD
QUALITY MANAGEMENT SYSTEM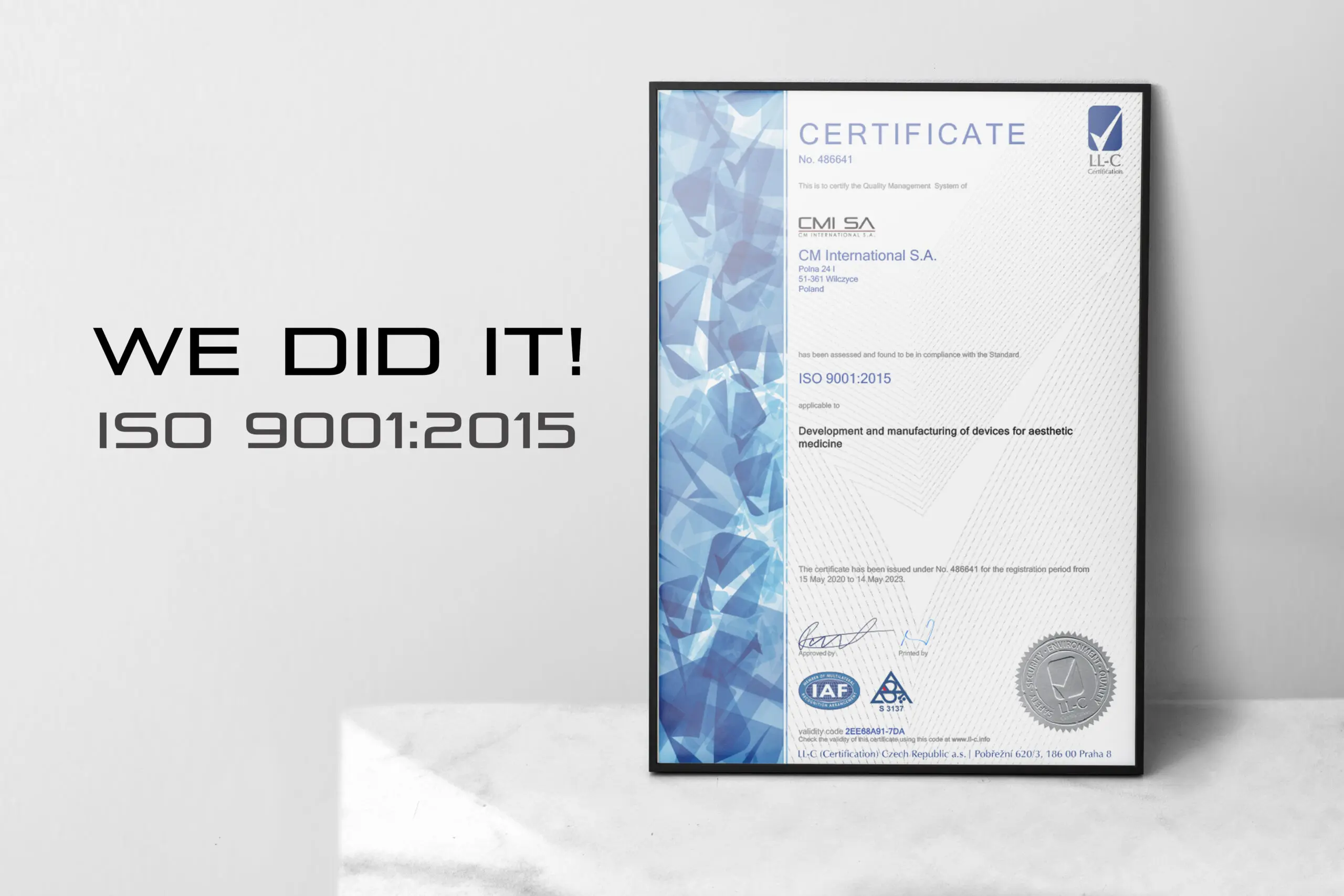 Our goal is to deliver top-notch manufactured equipment and ensure excellence in our internal operations. This commitment is exemplified by our implementation of the ISO 9001 quality management system.
We understand your requirements, and we will handle the certification process on your behalf, providing you with a market-ready product. Through close collaboration with certification bodies both in Poland and abroad, we can efficiently tailor the certification process to your specific needs.
Notifying bodies and laboratories we have worked with: